Zhuji City in Zhejiang Province ranks 24th in China's 6000 cities and it was therefore a privilege to join a visiting delegation from Zhuji at the East of England International offices in Cambridge.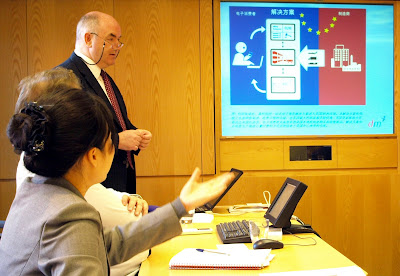 top- Richard Wishart, Delivery Management, Robert Edge & Joan Zhou EEI
Situated 2.5h from Shanhei and Ningpo, Zhuji & Zhejiang are interested in expanding their business ventures abroad, building on current £2bn exports worldwide (£250m UK). With 6 companies listed on international Stock exchanges the region is pushing to add at least 15 more over the next five years.
Whilst the region may not be familiar to the man on the street, its products are, with 75% of freshwater pearls originating in the region. Current freshwater pearls are a leap in quality for jewellry, especially as in contrast to seawater pearls which are often seeded with a bead, freshwater pearls are pearl through and through! On a more prosaic but relevant note for the current cold winter weather, there is a 35% chance that you will be wearing socks produced in Zhejiang!
The main interest for the delegation was logistics - in particular accessibility via Britains ports. Robert Edge of EEI briefed the delegation at the meeting, facilitated by Joan Zhou also of EEI.

More photos on Milton Contact's Picasa Album site


With more than 50% of port traffic at Felixstowe coming from China and the concommittent increase in ship size, the port is
planning expansion
to the south for deep water container quays to secure its postion as one of Europe's major hubs. A current alternative with large warehousing capacity is the
London Gateway Port.
Collaborative networker and colleague Richard Wishart of
Delivery Management
delivered a practical introduction to his profitable one stop eCommerce solution for entry into European markets, presenting the visiting delegation with slides and white paper in Chinese text. Milton Contact limited was involved in the writing of the white paper (
English text
,
Chinese text
) and provided the key graphic for the document, shown below.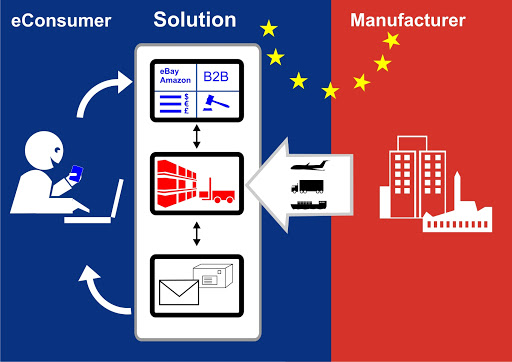 The Chinese delegation comprised He Xiaomin, Executive Vice Mayor Zhuji City Government; Qi Jianping, Chairman, Honglei Group Company Co.,Ltd, Xu Xingxi, Chairman Zhaoshan New Star Group; Wang Ling, Chairman, Zhejiang Meibang Textile Co.,Ltd; Huang Feigang, General Manger, Dadongnan Package Co.,Ltd, Zhejiang: Chen Jindi, Chairman Xiongfeng Group Co.,Ltd.; Lily Zhao Vice Managing Director Managing Director, Touchroad International Group; Chen Jianhong, Vice Director, Zhuji City Aboard Trade and Economic Cooperation; He Lijiong, Director Zhuji City State Taxuation Bureau.