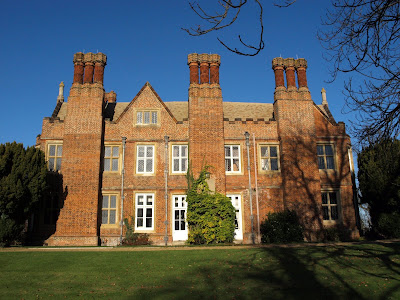 I arrived on a round about route at the
Bourn Hall Clinic
set deep in the heart of the Cambridgeshire coutryside, on a chill morning with a deep blue sky.
Around 20 Cambridgeshire businessmen and women and the local Members of Parliament,
Andrew Lansley
and
Jim Paice
, met in the sunlit boardroom of the Hall, set in a gentle landscape that had continuously occupied the site since the first wooden castle erected there in Norman times (
http://www.bourn.org.uk/history.htm
).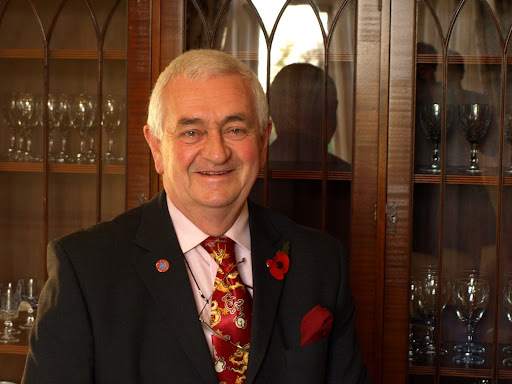 An excellent and welcome breakfast relaxed us sufficiently to enjoy the talk by
Professor Alan
Barrell
, FRSA and Holder of the Queen's award for Enterprise Promotion, on the rise of the Chinese Dragon and the Indian Elephant economies. We were reminded that here were two giants that had been slumbering for a past century and were now arising to take their place at the forefront of world economies.
European businesses might still view both mainly as manufacturing sources but these two nations were beginning to flex their R&D and innovation muscle; Highly vibrant, entrepreneurial and significant in their impact on the global economy, their dynamism sent out a wake-up call to the UK and EU – we need to adapt to the new realities or be sidelined.
The talk was entertaining and informative – with quotes from Napoleon to Ghandi – and he adapted to the audience which included Thak Patel of
Think India
and
Joan Zhou
of EEI.
Networking continued after the talk itself and you can see the best pictures in my album for the event "
SCGB 091107 Bourn Clinic
".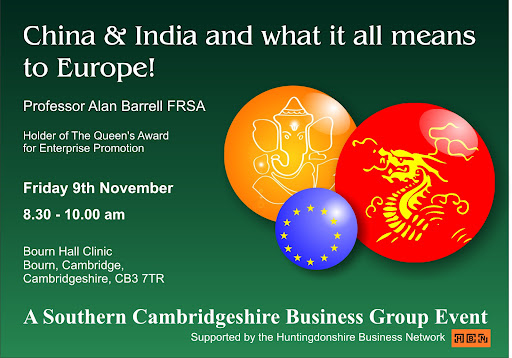 The event was organised by
Jan Mughan
of the Southern Cambridgeshire Business Group with assistance from myself both as
Huntingdonshire Business Network's
Mailing and Marketing Manager and through my international contacts list.